Plasmius


Clans
Current Group
CosmicClan
Past Group(s)
Rogues and Loners
Ranks
Current Rank
Leader
Current Name
Plasmius
Family
Mother
Unknown
Father
Unknown
Sibling(s)
None
Mate(s)
None
Offspring
None
Alliances
Roleplayer
Crystal
Plasmius is a long-furred, glossy silvery blue and white tabby tom with jet black classic tabby stripes, tufted black ears, and bright amber/red eyes.
Leader of CosmicClan.
Personality
Edit
Plasmius is greedy, and can't care less for anyone else. He can even be melancholy at times, due to an incident in the past. He is extremely powerful, which is why cats look up to him as the leader of CosmicClan. He absolutely detests kits and young cats, and has lots of battle experience. He is very smart, and knows how to take care of the clan properly. He also has lots of experience from all the events from the past, but always feels like he could learn more to become a more powerful cat.
Backstory
Edit
Coming soon!
Life Image
Edit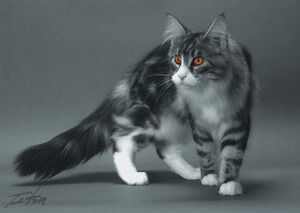 He is Crystal's first cat.
He is loosely based off Vlad from DP.
Crys will finish his template later on when she's not on an iPad.